Planting a tree is a symbol of permanence, knowing that in years to come you will watch it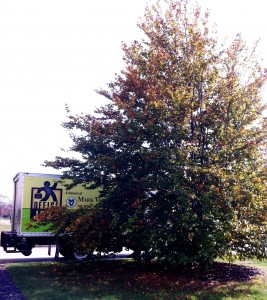 grow and become a part of the family that it encompasses.
Mark Vend is such a family.  Started by Andy and Bonnie Stein in 1962 in suburban Chicago, they had a truck, a few dozen machines and dispensed only cigarettes.
As they outgrew their original premises, they moved to larger complexes until they relocated to their current location on MacArthur Blvd in Northbrook, IL.
When they moved in to these premises, Bonnie Stein planted a young Copper Beech Tree, signaling the home of Mark Vend Company.  It has been nurtured over the past twenty years and has grown tall and majestic, a symbol of the growth of the company.
To this day Mark and Daniel Stein have built on their parent's vision running a company that uses state of the art technology to create a high level of customer service.  Today the company has over 2000 machines and over 25 vehicles throughout Greater Chicagoland.
With their roots firmly planted in serving the communities in Chicago, Mark and Daniel Stein are recognized leaders in the vending industry.  Awarded the Automatic Merchandiser 2011 Vending Operator of the Year, Mark Vend's vision is providing exceptional service while bringing customers the latest in healthy and 'green' food and beverages to Chicago and beyond! Want to learn more what Mark Vend has to offer your place of business? Call today at (847) 291-9216!