Chicagoland's vending experts.

Mark Vend has been the go-to source for fueling Chicagoans at work since 1962. And we're more passionate about it now than ever.

Always stocked. Always fresh.

That's the promise we make to our clients. Our smart technology and responsive team keep your machines chock-full and humming.

Ahead of the curve.

Mark Vend works hard to bring you the latest options in vending. You name it, we can stock it — from frozen treats to bicycle parts to corporate swag.
Healthy choices
Nutrition on the go.
In today's health-conscious climate, nutritious snacks should be as close as the break room. Fortunately, Mark Vend can help.
Local school districts are among the many organizations that have sought out Mark Vend's expertise in revamping their vending programs to be healthier.
How can we help you?
Payment options
No cash? No worries.
Gone are the days of jamming crumpled dollar bills into a slot. With Mark Vend's machines, the swipe of a card or tap of a phone will do it. We offer a range of convenient payment options: credit or debit card, Apple Pay, Google Wallet and Mark Vend Bucks. Transactions are processed in seconds, and it's back to work!(Of course, good old-fashioned cash works, too.)






Vend bucks
Treat your team.
We continually explore new ways to bring added value to our customers. That's what generated Mark Vend Bucks. Good for a free product from any of our vending machines, these vouchers are a great way to incentivize employees or treat visitors.
You simply purchase a supply of Mark Vend Bucks at a predetermined price. Scanners in your machines are programmed to accept these vouchers for one transaction — any product, regardless of price.
Just how popular are Mark Vend Bucks? One customer purchases over 2,000 of them each month to reward employees.
Go ahead… indulge your team.
Refunds
No questions asked.
We aim to make every vending transaction a positive one, but even the best machines act up once in awhile. Whether a candy bar gets stuck or a card reader fails, Mark Vend makes refunds easy. You have two options:
1. We supply you with $25 in cash for reimbursing users as needed.
2. We handle refunds for you. All of our vending machines are labeled with phone, text, email options for users to contact us and receive a refund. Most of our clients choose this option.
Customer service is Mark Vend's top priority — for you and those you serve.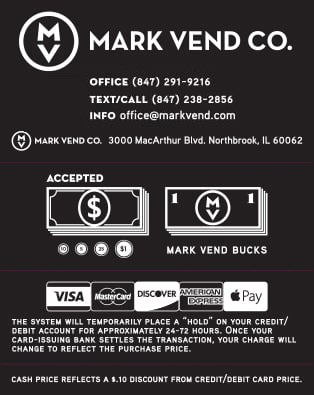 Technology
Easy, efficient, reliable.
Mark Vend regularly invests in the latest smart technology.This allows us to better service your facility and makes payment effortless for your users.
In today's health-conscious climate, nutritious snacks should be as close as the break room. Fortunately, Mark Vend can help.
Environment
Green for decades.
Mark Vend launched its green program over 30 years ago.Our commitment to sustainability includes the use of:
Energy Star™ - certified machines
Machine thermostats that monitor and adjust temperatures to reduce energy consumption
Post-consumer break room supplies, including cups, napkins and coffee cup sleeves
Motion-activated LED lighting on vending machines
Stand-by modes that power down machines not in use
Non-toxic, environmentally safe cleaning supplies
We also work behind the scenes to reduce our carbon footprint. Mark Vend's proprietary technologies monitor our 2,500+ vending machines to make deliveries and service calls more efficient. And every truck in our fleet is low-emission and energy-efficient.
Service
There when you need us.
Mark Vend provides the most responsive service in the industry, hands down. Real people answer our phones and you always havedirect access to the owners.
If anything goes wrong with one of your machines, we're on it. Our highly trained technicians are never far away and respond to most service calls the same day or early the next. If the issue is serious and cannot be fixed quickly, we replace the machine.
Reporting
Everyone's in sync.
Mark Vend uses the most advanced network applications in Chicagoland to track sales and performance metrics and keep you informed.
Mark Vend operates with complete transparency. You have unlimited access to all sales and service records — by machine, location and month — that we maintain on your behalf.
Our technicians and route drivers are armed with mobile technology that gives them detailed data — wherever they are — to monitor and optimize the performance ofyour vending machines.
Equipment
New, modern, smart.
Our vending machines not only look good, they operate flawlessly.Every one of our machines is networked using Mark Vend's exclusive software that:
Monitors inventory
Controls machine temperature
Tabulates sales
Creates service orders
Generates real-time reports
Easy to manage. Easy to use. It's how vending should be.
One size doesn't fit all.
That's what makes Mark Vend a smart choice. From universities to start-ups, factories to Mag Mile retailers, we create the vending program that works for your people.