MEET CHRIS  H.
Sales Rep Supremo!
There is no one better to advise you on your vending machine requirements in Chicago than Chris at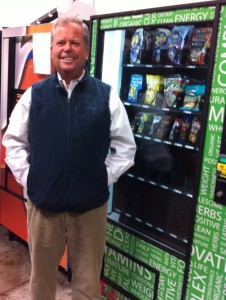 Mark Vend.
Chris has been with Mark Vend since 1998 and has worked in the field with companies both large and small.  Chris will always give you the attention to detail that you would expect from the consummate professional he is in his field.
Chris is always smiling at Mark Vend.  He is also always eating something, sampling the foods to see what is the tastiest.  He says he has to work out extra hard at the gym to stay as trim as he is!!
His amiable nature and deep knowledge of everything vending and coffee makes him the perfect man to advise you on your requirements. To learn more about vending or office coffee service for your location throughout Chicago, Mark Vend invites you to call Chris today 847-561-6550. Here at Mark Vend, we are ALWAYS happy to serve you!