All Chicago employees can gather round the coffee machine again! The latest offering by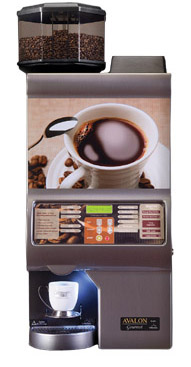 MARK VEND CO for an exciting brewer for your break room is the Avalon Gourmet Brewer.  This is your one stop shop for all your coffee requirements.
Great for the coffee purists throughout Chicago who like it black or prefer flavored coffee with froth!
A unique single cup coffee brewer that can offer your Chicago employees 30 different combinations, making the Gourmet ideal for your on-site break room. Suitable for a multitude of settings and the convenience of providing guaranteed freshness one cup at a time, anytime.
Equipped with a Whipper Chamber, for the best froth for your Cappuccino, Long Espresso or Hot Shot
Two cup sizes.
Two brew strengths
Environmentally friendly
Programmable options: cup sizes, brew strengths and product settings.
Sleek and compact, this machine fits snugly on top of a counter.
Stylish Bistro design and look
Capacity to contain 10 lbs of whole bean coffee within three different cylinders:  two of 4 lbs and one of 2 lbs
Three canisters for flavored ingredients
Selections :
3 whole bean coffees of your choice                                               Vanilla Moka Coffee 50/50                                                                                                 Energie Shot Coffee      French Vanilla                                                                                   Hot Shot Blend Coffee       Vanilla Coffee                                                                                    Long Espresso Vanilla Moka                                                                                                  Cafe Lattee                               Hot Chocolate                                                                                   Cappuccino/ Hot Water Mokaccino                                                                                         for your favorite tea
Contact  Mark Vend today for a free no-obligation consultation regarding your break room needs. At Mark Vend we focus on providing you the latest in technology and the best in customer service. Call TODAY! (847) 291-9216.