With frost on the windows and a cold nip in the air you might not think about visiting the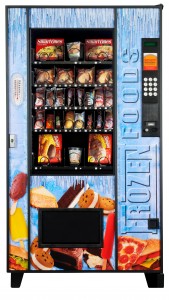 freezer aisle. But if you work up a sweat chipping ice off your windshield and a need a cold snack or a hearty meal and don' t have time to leave for the store, consider asking your Mark Vend for a frozen food vending machine.
If you're scrunching up your nose as visions of old fashioned TV dinners and cheap oil filled burritos dance through your head, you can relax!
Frozen entrees have evolved quite a ways since they were first introduced in the 1930s.
Today frozen meals include a large variety of healthy, tasty and quality options brought to you by name brands you love including: Marie Calendar's , White Castle, Lean Cuisine, Red Baron and Tony Roma's.  Some of their most popular selections include:
Pot Pies
Ice Cream Bars
Frozen Dinners
Pizza
Asian Cuisine
Hamburgers
Hot Dogs
Pasta
Panini Sandwiches
Tacos

With such a large variety of meal and dessert options, there is something for everyone at your Chicago office.
In addition to offering delicious and healthy alternatives, frozen food machines meet a couple other needs including:
The ability to provide food to employees when your Chicago location doesn't have enough on site staff to warrant a fresh food machine
Quick meal options so employees can enjoy breaks without spending their time in transit to and from the store
Now if you are wondering if a frozen food machine is a good fit for your Chicago location, answer the following questions:
Do you have at least 100 employees?
Does your business/organization employ a large amount of people from Generation Y (statistics show that Generation Yers are more comfortable with purchasing frozen foods)?
If you answered yes to any of these questions contact Mark Vend and ask how you can get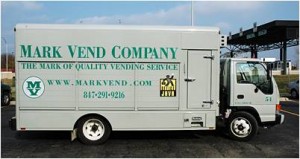 a frozen food machine placed at your Chicago location. When choosing the right vending service make sure to ask the following questions:
How  they store their frozen food in warehouse
How they store frozen food in transit to your location?
Do they have a dedicated fresh/frozen food route (if not are regular snack/beverage delivery drivers trained on safe handling of fresh/frozen food)?
Now that you know what to ask, call Mark Vend (847) 291-9216 today so that the next time it's cold outside you and your employees can warm your hands by the microwave and fill your stomachs with delicious, name brand, quality products.